Discover more from EVERYONE CAN COOK
Bake Austin is a virtual culinary school for all ages. We teach you to be the boss of your own kitchen. Most of us don't need more stuff, but we all need to eat! 🎂 If you sign up today you will receive our famous & delicious Carrot Cake Recipe
Over 1,000 subscribers
Sweet Nothings from Bake Austin, May 2016
Sweet Treats From Bake Austin
May 2016
Thank you so much for coming out to the Austin Maker Faire 2016!
It was nice to meet you!
Happy belated Mother's Day!
We were at the Maker Faire this weekend and had a lot of fun! Here is one of the cakes we created: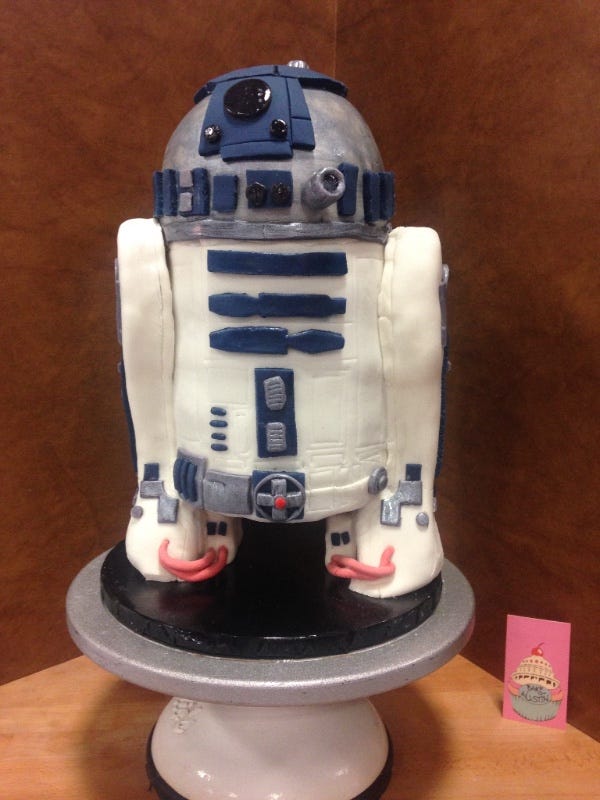 Here are a few photos of the process.
The cake took 8 hours to decorate (this includes three assistants), not including baking the cakes, making the butter cream, ganache and fondant. We built the base at the shop as well and had our plans printed out. First time I made an R2D2 cake.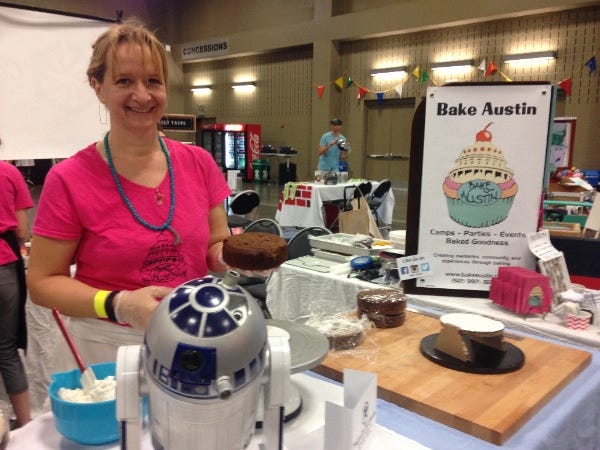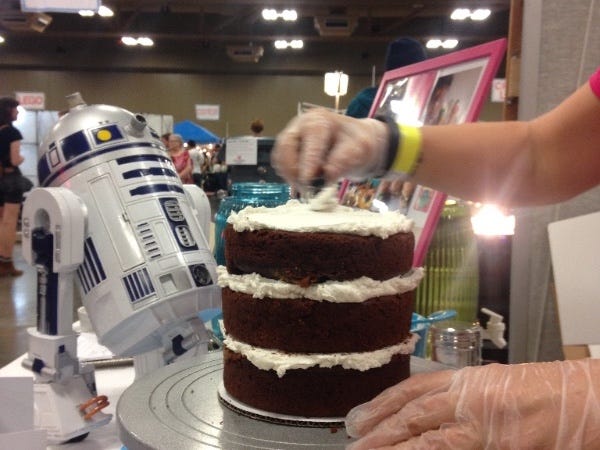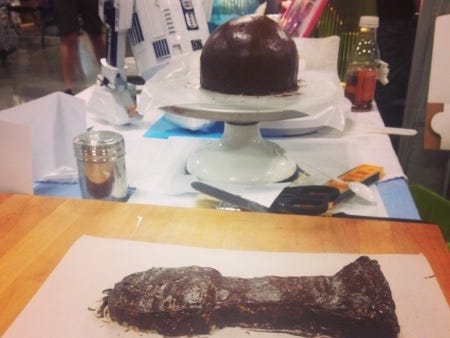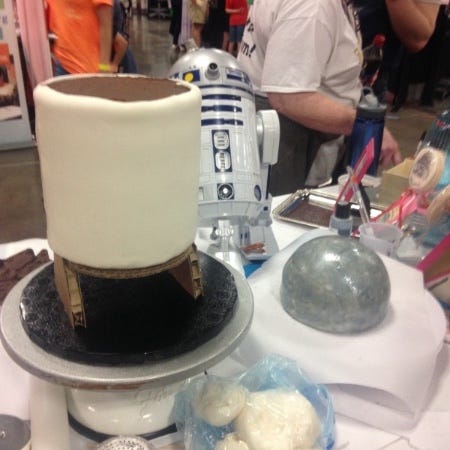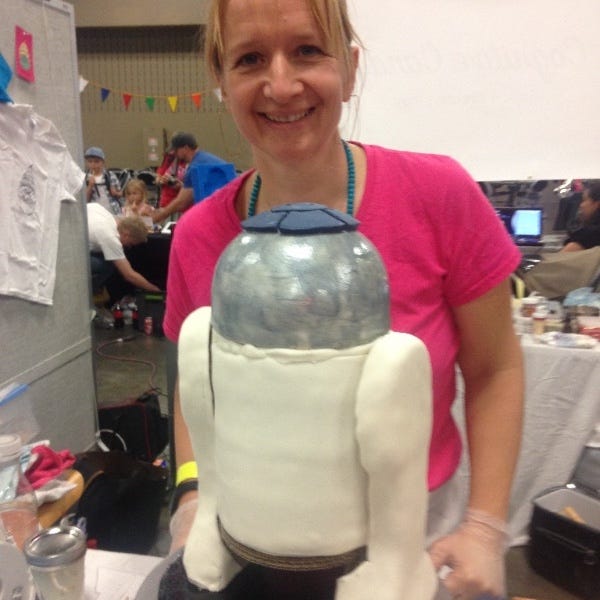 Above you can see the progress of the R2D2 cake.
First I leveled the cakes and then filled them with icing. Then covered the cakes with chocolate ganache.
i assembled the head separate from the body. He has to be able to spin it. :) (In reality that did not happen but i need to cover the head separately so I could attach it later) The legs are made of rice crispy treats, covered in ganache and the whole cake is covered with fondant, after the ganache was cooled and not sticky any more.
I painted the head with silver airbrushing paint, in retrospect I would use silver luster dust or dye the fondant a grey.
My dear friend Trasi cut all the details for the final touch out of colored fondant. We used templates to get the right dimensions. Then we used piping gel to give some of the details a little more shine. Viola! He pas done.... well, it sounds much easier then it really was.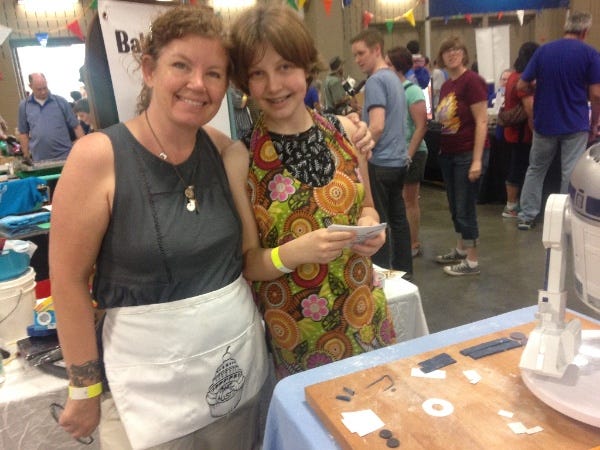 My helpers! Thank you again for all your hard work!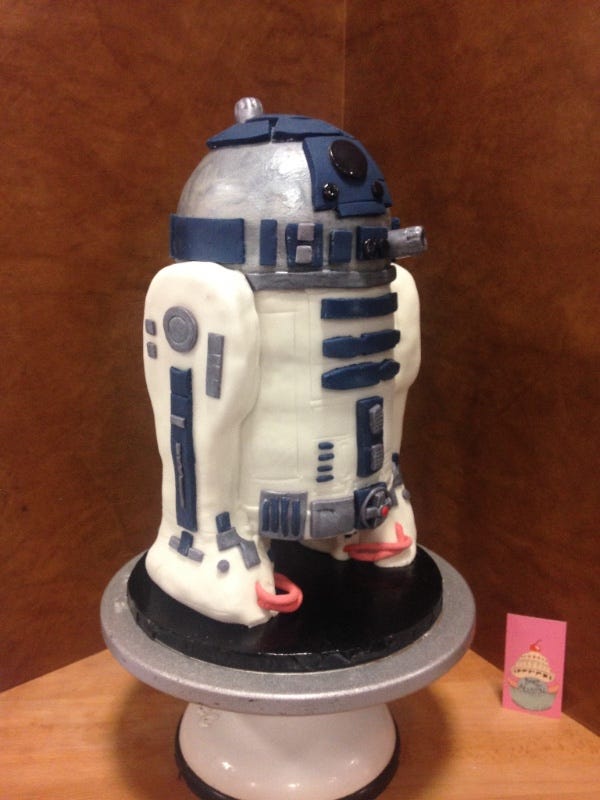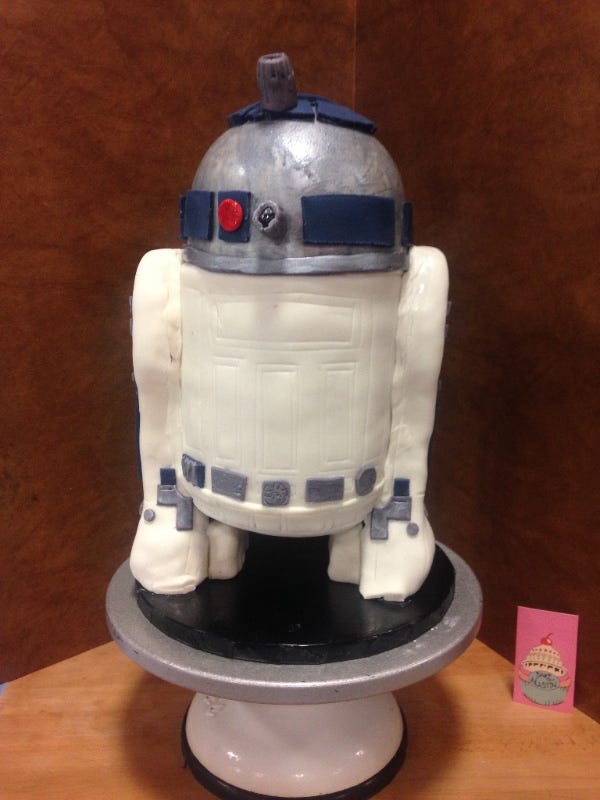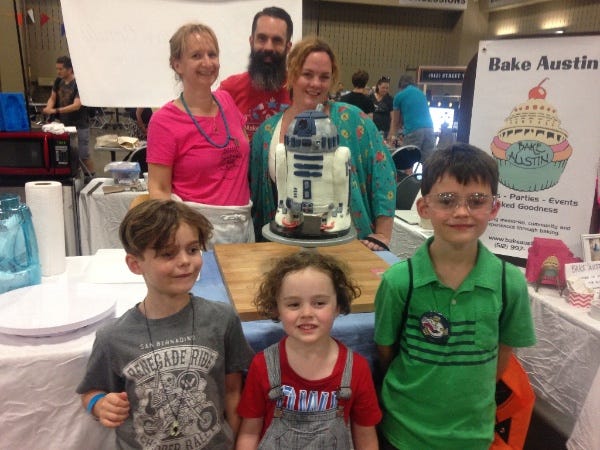 These are the proud winners of the R2D2 cake raffle! Congratulations!!!! 
Do you want your kids to learn to do some of this?

Here is your chance!

And we just added a brand new camp! Star Wars Themed! May the force be with you.

Sign up today! 

www.bakeaustin.com
New Summer Camps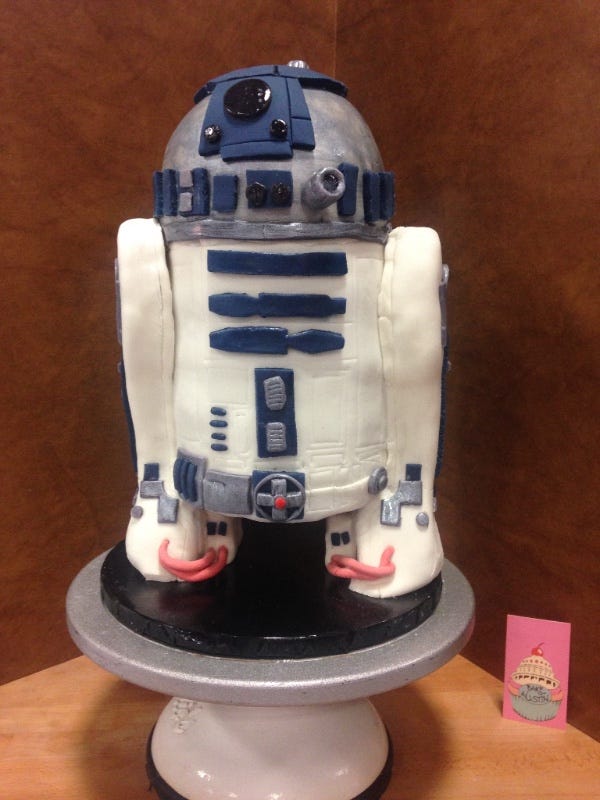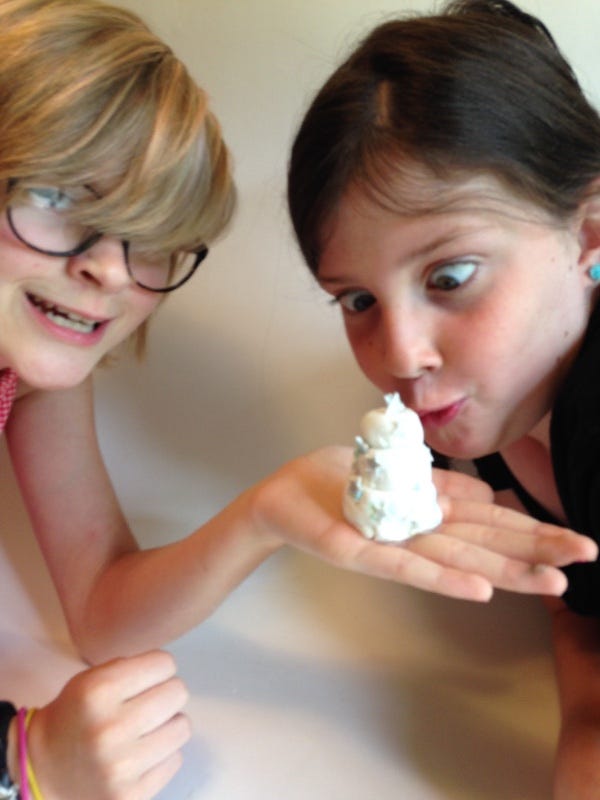 Star Wars Themed Baking Camp
July 18-22 - Mon-Fri - 10am -2pm
(ages 8-up)
In this awesome camp we will make chocolate R2D2's, cake pop Deathstar's,  Chewbacca cupcakes, to Sarlacc cakes.
Teen Cupcake Battle
July 5-8 - Tue-Fri - 10am -2pm
(ages 11-up)
If your teen loves shows like Cupcake Wars, Great British Baking Show, or Kids Baking Championship. This is THE camp to be at! (ages 11 an up)
Tiny Baking Camp
June 13-17 - Mon-Fri - 10am -2pm
(ages 8-up)
Experience the growing trend of miniature baking. We will construct our own small bakeshop to house your tiny sweets.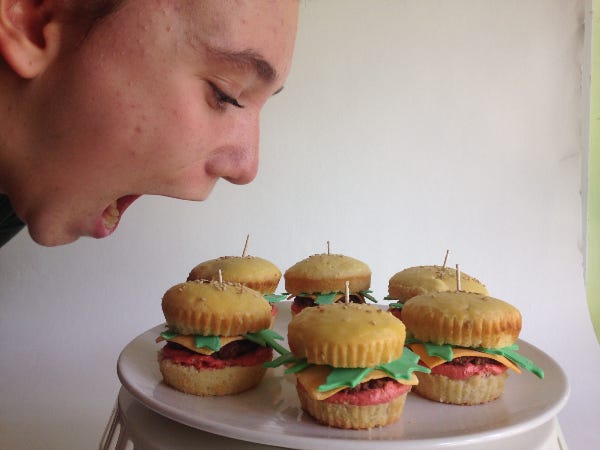 What's that.... a Cupcake?! 
July 25-29 - Mon-Fri - 10am -2pm
(ages 8-up)
One week of food imposters like cheeseburgers, pizza, ice cream, popcorn and more. No one will guess its a dessert! 
 
There are more camps on our website! 
New Adult classes will be posted soon!
Stay in touch!
Like us on Facebook, Instagram and Twitter if you haven't yet, to hear about our new classes.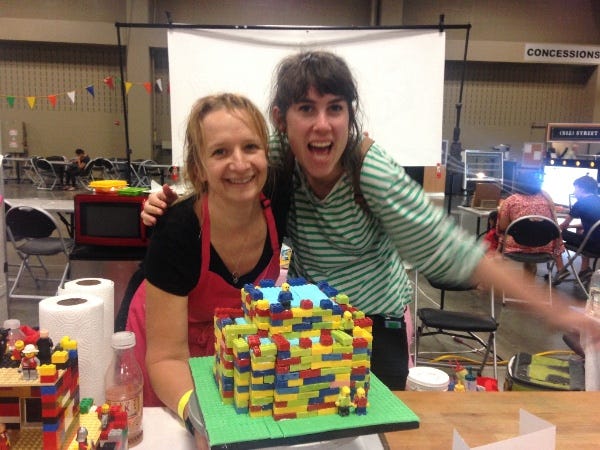 And here is the proud winner of the Lego cake.
Congratulations!!! 

In our next newsletter I will explain in greater detail how to make your own lego molds and what you can cast in them.
Stay tuned.